Steam Boiler
ECOTHERM
Fully automatic steam boiler according German Standard TRD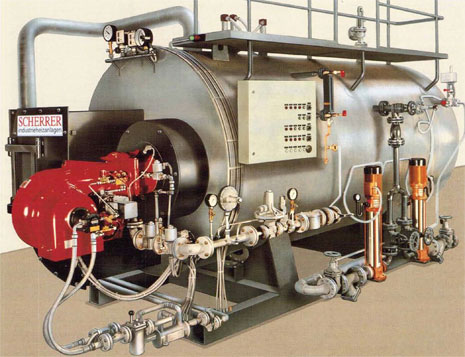 DELIVERY RANGE
The steam boilers type ECOTHERM are designed for capacities ranging from 1.000 kg/h to 14.000 kg/h, operation pressure from 0,5 to 44 bar.
ECOTHERM boilers — in traditional THREE-PASS-SYSTEM — with latest control and monitoring system according German TRD standard.
TOP QUALITY
Construction, selection of material and manufacture of ECOTHERM boilers are according to the European Directive 97/23/EC and German Standard TRD".
Each ECOTHERM boiler is tested according TRD-regulations by official TUEV-authorities including material test and pressure test.
Regular examinations of all steps of production, using only certificated materials, first class valves and fittings, type-test approved regulation- and safety devices, as well as observance of all regulations (TRD, DIN, EN, VDE), guarantees an optimal quality standard of our products.
High grade manufacturing precision.
German technology.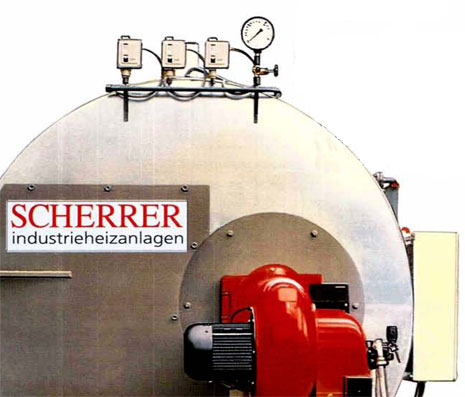 OPERATION SAFETY
The boiler is a factory-assembled unit: Boiler, valves and fittings, feed water system, safety devices, furnace and control cabinet are mounted an a common base frame.
All equipments - especially all regulations and safeties -are ready wired and adjusted at our testing stand.
The safety devices are provided in double:
- double-safety against over-pressure
- double low water cut-off
- double level indicator
AUTOMATIC OPERATION
ECOTHERM boilers are completed with a sequential controlled program system for boiler's full automatic operation and responds automatically to the actual steam demand.
The ECOTHERM control system includes an additional self-monitoring electrode for supervision of water level. This type-tested electronic system allows automatic operation without steady supervision according to standard TRD.
Additional equipments are available to minimise supervision interval to 24 respectively 72 hours.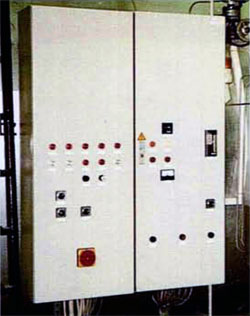 OPTIMAL EFFICIENCY
The accurate co-ordination of fuel, furnace and heating surfaces (flame and flue-gas tubes) guarantees an optimal combustion and highest efficiency.
The exterior high grade insulation reduces heat losses to an absolute minimum.
Efficiency of combustion up to 92 %.
Heat loss minimised according strict German regulations.
READY FOR CONNECTION
ECOTHERM boilers are pre-assembled to give a compact ready-to-use product. The complete wiring and adjustment at our testing stand avoids trouble at site.
The lateral fittings may be installed at boiler's right or left side, just according to the requirements at site.
Special foundations are not necessary since the boiler is assembled on a strong base frame.
EASY MAINTENANCE
All flue-gas paths, such as flame tubes, flue-gas reversing chambers are easily accessible.
Hinged front door and cleaning holes at the rear side allows easy and quick cleaning of flue-gas tubes.
Man-hole and several inspection holes allows easy inspection and cleaning of the water side.