Circotherm
Thermooil Boiler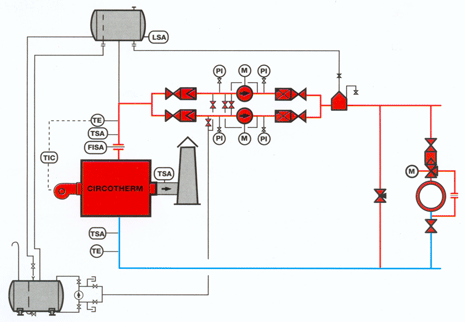 Safety
Cold start thermostat reduces burner capacity until the minimum viscosity of thermooil is being reached.
Combustion is blocked until the pump is running properly.
Flow monitoring by type-tested differential pressure system.
If the minimum flow falls short the burner stops at once.
Safety thermostat controls max. supply temperature and stops the burner in case of overheating.
Flue gas thermostat switches off the burner if the allowed temperature will be exceeded.
All safety appliances in addition give optical and acoustic alarm. The source of error is shown at the control cabinet.
All appreciated safety devices are type-tested according to German Standard DIN 4754 and VDI 3033.
SCHERRER Industrieheizanlagen
Beethovenstr. 4
D-76863 Herxheim
Germany
Phone: +49.7276.919 200
Fax: +49.7276.919 201
Mail:
Internet: http://www.boiler.de